Welcome to Our Service Department
If you'd like to schedule a service appointment and a convenient time slot is not available, please call the dealership at 888-806-4206 
For your safety and comfort, if requested, we will pick up, service, sanitize and return your vehicle.  Let us know when you are setting your appointment.
Choose the Service Center at

Troncalli Subaru

in Cumming, GA for the Highest Quality Repair and Auto Maintenance Work in the Atlanta Area
To keep your car running in its best shape around the Atlanta area, the service center at our Cumming, GA Subaru dealership will prove to be your best bet. Specializing in every kind of Subaru model, part and system, our service technicians are highly trained and equipped with a state of the art facility to handle everything from routine oil changes to major repairs on your Outback, Forester, Legacy or Impreza. Set up a service appointment today and we'll take a look at your Subaru to see how we can send it back out on the road in better shape than when you dropped it off.
Duluth area drivers will delight to know there's a trustworthy and convenient service center nearby that specializes in maintaining and repairing Subaru models. Even if it's for simple inspections or routine maintenance like tire rotations or a battery check, you'll want to leave your Legacy, Impreza or Crosstrek in the hands of a highly trained technician who knows the Subaru brand like a second language. That's an especially important factor for repair work on your Subaru, as its unique AWD system and BOXER engine require a level of expertise that an independent auto shop might not offer.
Beyond knowing how well-trained and qualified the service techs are at our Subaru dealership near Roswell, you'll love how convenient it is to set up appointments. You can schedule visits here online or you can give us a call during our open hours. We have a comfortable, quiet and amenity-filled waiting area if you're in for a relatively quick oil change or tire rotation, while we'll arrange a ride via shuttle or a loaner or rental car if your Subaru will be in the shop for a longer period of time.
Choose the service center at Troncalli Subaru for all your maintenance and repair needs to stay safe on the road for many more miles and years.
Trust Your Award-Winning Subaru with the Team that Knows it Best
It brings a reputation of dependability and stellar performance, but even the most reliable vehicles will still need an oil change from time to time. Its tires will wear, and the battery will drain. That is why when drivers from Dawsonville and Dahlonega need service for their Subaru, they head to Cumming, GA and the team at Troncalli Subaru.
The service department at Troncalli Subaru knows what it takes to take great care of your Subaru. They have worked tirelessly to learn the intricacies of everything your Subaru may encounter. It is this attention to detail that helps keep your Subaru running at its peak performance and contributes to the award-winning Subaru tradition of excellence. It is their efforts that help make each Subaru among the longest-running brands on the road. IN fact, 97 percent of the Subarus sold in the past decade are still on the road. We'd like to think our team had a hand in that.
When your Subaru needs its regular, routine or large-scale service, the team of expert technicians at Troncalli Subaru is here to help. They can handle everything from your oil change, tire rotation or even fresh windshield wipers after an exceptionally rainy season in Gainesville. Toncalli Subaru will get you in and out, and back on the road. Are the dusty roads of Alpharetta clogging up your filters? Let our team replace them with new ones so you can breath the fresh air again.
Even an award-winning Subaru needs some TLC sometimes. When that time comes, schedule your appointment to visit the service team at Troncalli Subaru. There is no project too big or too small. Their years of experience means they will treat you and your Subaru like family.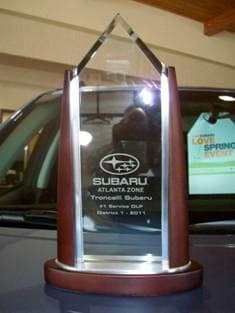 We are happy to say that,
 we were awarded the BEST SERVICE 
EXPERIENCE award as voted by our
 customers and Subaru of America.
 Thanks again for trusting Troncalli 
Subaru.  We are committed to your 
total satisfaction.