The 2021 Subaru Love Promise Customer and Community Commitment Award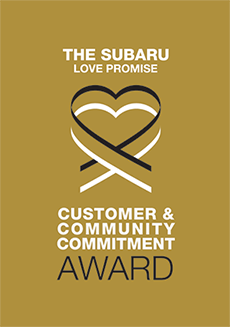 We've been nationally recognized for our dedication to our customers, our community, and the Subaru Love Promise.
We're honored to receive the 2021 Subaru Love Promise Customer and Community Commitment Award. This award nationally recognizes elite Subaru retailers who provide an exceptional customer experience at every interaction with Subaru. These retailers have also demonstrated an outstanding commitment to supporting passions and causes in their local communities in important areas such as the environment, community, health, education, and pets.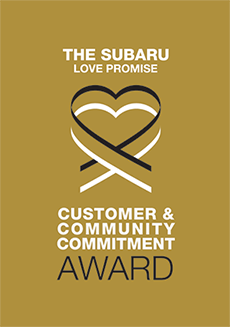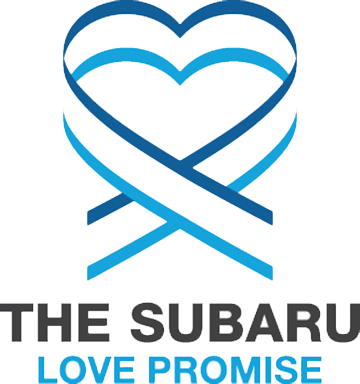 What is the Subaru Love Promise?
Subaru and our retailers believe in making the world a better place and the Subaru Love Promise is our vision of respecting all people. This is our commitment to show love and respect to our customers and to work to make a positive impact in the world.
How is Troncalli Subaru dedicated locally to the Love Promise?
Our Love Promise can be seen in our on-going partnerships with local charities and non-profits. We're grateful for the opportunity, not only to be a part of our community, but to serve it as well.
Humane Society of Forsyth County, Furkids Animal Rescue & Shelters
Little Mill Middle School
Children's Healthcare of Atlanta
Love Promise Stories from Troncalli Subaru
Subaru and Troncalli Subaru believe in making a positive impact on the communities in which we live and work. We uphold that belief through our Love Promise Community Commitment. Every month, we select inspiring stories from customers and partners from around our area who strive to support our collective commitment and feature them here
THANK YOU Subaru for helping families in need!!! - Ben B
Since the start of the pandemic, the Atlanta Community Food Bank has seen a 300% increase in families seeking food assistance. Currently, we are distributing 50% more food per week than we were at this time in 2020 and are serving over 1 million food insecure Georgians due to the COVID-19 crisis. 1 in 4 children currently go to bed at night hungry. In 2020, Subaru provided enough support help us provide almost 200,000 meals to our 29 county service area. With their help, and yours, we are going to make sure every family that needs a meal will have it and we will get through this thing together! Thank you Subaru!!
---
The HSFC Loves Barlow Bear & His Troncalli Family! - Amy C
The Humane Society of Forsyth County is honored to have Troncalli Subaru as one of our top Corporate Sponsors! Throughout the year, they support us in many ways. In addition to financial support, General Manager Michael Barlow, a/k/a Barlow Bear, and his amazing team, donate their time, energy, and spirit. They not only sponsor events, but they attend them and really add a specialness to the ambience that only they can do! During the month of October, they sponsored the HSFC for the Subaru Loves Pets Adoption Event! We are proud to say that through this event, we were able to adopt out 54 animals into loving and forever homes. Although there are more facts that can be listed, we would rather share with everyone the spirit that is Troncalli Subaru. To start this particular campaign off, Troncalli Subaru sponsored an event for us at the Reid Barn. On this night, we adopted out "stuffies" to those who wanted a fully trained and housebroken pet! After the event, we moved the "stuffy" adoptions to the Troncalli Subaru Showroom for the entire month of October. We also held a raffle! This turned out to be not only financially successful, but a good time was had by all! Just about every member of Barlow Bear's team adopted a stuffy! It was truly heartwarming to see everyone's involvement! Midmonth, we held a real, non-stuffy adoption event at Troncalli Subaru! The dogs that attended had an absolutely wonderful time as they were lavished with love, attention, and treats by the entire Troncalli Subaru family. The above event is just one example of what Troncalli Subaru does for the Humane Society of Forsyth County. They have been sponsoring us for many years, and with their help and dedication, we have grown. In case you are wondering where the name Barlow Bear originated, it is because of Michaels big heart! He goes out of his way to make sure that all of our events, and other events that Troncalli Subaru sponsors within the community, are successful. He does more than just write the check! He puts his heart and soul into everything he does....and that is reflected by his staff, because they do the same. Working an event with Troncalli Subaru is always a great experience. To sum it up in a nutshell, working with Michael and his team brings out the warm and fuzzies, hence the name Barlow Bear! The Humane Society of Forsyth County loves Troncalli Subaru, and of course, the Subaru Loves Program. It has had such a positive impact on all that we do. Thank you for allowing us to be a part of all that is Subaru! Mostly, thank you for helping us save fur lives. To the entire Troncalli Family from all of us at the HSFC, thank you for everything you do for our community. Barlow Bear....you know we love you!
---
Furkids LOVES Troncalli Subaru! - Furkids F
Thank you Troncalli Subaru for hosting Furkids' low-cost vaccination and microchipped clinic on Saturday, October 10th. Nearly 100 of our special furkids were vaccinated and microchipped ensuring their overall health and safety. The complimentary engraved pet I.D. tags were a huge win for all too! We love having community partners who truly value and understand our life saving work!
---
Going Gold for Emma - Jennifer C
Three years prior to her cancer diagnosis, Emma finally became a big sister. She wanted to get her brother something special for the baby shower, so she made him a book of all the things she wanted to do with him. The very last page read, "My wish for you is...to cherish life." Families like Emma's are faced with unimaginable challenges in every conceivable aspect of life, and all at the same time. Over the past 10 years, CURE Childhood Cancer has funded over $27,400,000 in research, provided $1,677,296 in financial assistance and served over 113,876 meals in the hospital. Supporting families devastated by a childhood cancer diagnosis is central to their mission. From meals and counseling to financial assistance, CURE is committed to walking alongside families throughout their cancer journey. Through financial support for CURE, we can all work to find an end to childhood cancer. We are proud to hang a shining beacon of GOLD in memory of Emma (2004-2017), and for all those we hope will be spared by the development of a cure.
---
Shine Pedalers Metric - Jennifer C
This year has been an uphill battle for hosting events and fundraisers in general, but the participants in the Shine Pedalers Metric were eager to literally take on the uphill challenges of their beloved annual bicycle event. The Shine Pedalers Ride offers rolling routes through the beautiful hills of Dawson County where cyclists clocked up to 68.1 miles and a peak elevation of over 5,700 feet. With kind words from the event coordinator: Dear Michael, Thank you so much for all your support with our 8th Annual Shine Pedalers Metric! All the participants have had nothing but positive feedback and have been very appreciative this event happened. We really appreciate Troncalli Subaru helping make this event a reality this year! Thank you! -Dustin
---
Forsyth County Strong - Jennifer C
Our community heroes protect our health, safety and well-being every single day. While we appreciate everything they do for us, we rarely get the opportunity to demonstrate it by protecting their health, safety and well-being in return. During the onset of the COVID-19 pandemic, our community heroes were identified as "essential workers," and faced their daily demands with a shortage of personal protective equipment to keep them safe. When the opportunity presented itself to purchase N-95 face masks for our local sheriff's department, we didn't hesitate. The phrase "we're all in this together" became the rally song to combat COVID-19, but in the bigger picture, it has always been the anthem of a strong community. Thank you to all of our community heroes for keeping Forsyth County strong.
---
Bald Ridge Lodge - Outing & Activity Sponsor - Wendy H
Thank you to Troncalli for being an outing and activity sponsor for Bald Ridge Lodge!! Bald Ridge Lodge provides a safe haven to boys ages 12-21 who have been victims of abuse and neglect. We provide a therapeutic and nurturing environment, the tools to help them heal from past trauma, and give them the life skills they need to become successful men. Our goal is to break the cycle of abuse, keep our boys in school and help them secure a better future. Bald Ridge Lodge is dedicated to helping boys overcome: low self-esteem, manipulative and inappropriate behaviors, unhealthy relationships, feelings of worthlessness, and a risk of recidivism. We remind them that their past does not define their future. We help families by providing tools and resources for reunification and restoration. Your contribution is changing lives, one boy at a time, and we are extremely grateful for your support. Because of the financial support of organizations such as Troncalli Subaru, we can change a boy's life direction. We can restore hope and empower our boys to seek bright futures!!
---
Subaru Shares the Love with Jesse's House! - Karen C
Since 2013, Troncalli Subaru has donated over $111,000 to Jesse's House to support our mission of providing a safe haven to female youth ages 7-21 who have been victims of abuse and neglect. We are able to provide a nurturing environment, the tools to help them heal from past trauma, and give them the life skills they need to become successful adults. Below is just one of a thousand stories we have witnessed over the past 22 years in Forsyth County: Cortney* grew up in a loving home. Her parents were divorced and her mother struggled to make ends meet, but she was loved and taken care of. When Cortney was 9, her mother began dating a man who seemed very nice and who provided financially for the family. At age 10, the unimaginable happened and this same man began sexually abusing Cortney. Cortney was too frightened to tell anyone and this abuse went on for years. At age 14, Cortney finally told a teacher at school what had been happening. Her mother chose to believe her now husband and refused to have him leave the home. Cortney came to Jesse's House suffering from depression and issues with self-harm. We provided on site counseling in addition to specialized counseling for survivors of sexual abuse. She stayed in our care for over a year and we watched her transform from a broken child into a more confident young lady with a future planned out for herself. She was able to be placed with a distant paternal aunt and is doing well. Because of the financial support of organizations such as Subaru we are able to take in children like Cortney and change their life's path. We remind them that their past does not define their future. We restore hope and empower or youth to seek bright futures. We are able to break the cycle of abuse, keep our kids in school and help them move on to secondary education. Your contribution is changing lives, one youth at a time, and we are extremely humbled by your support.
---
Make a Dog's Day! - Andy A
Subaru is proud to establish the first-ever National Make A Dog's Day October 22nd. As part of Subaru Loves Pets month, we're inviting all dog lovers to do something extra special for their furry best friends. Plus, Subaru will be focusing our efforts on helping the hardest-to-adopt shelter Dogs –those with special needs-find homes. Get ready to fall in love withThe Underdogs. #MakeADogsDay Meet Gabi! Gabi has been at the Humane Society of NWGA (Northwest Georgia) for seven years. If you asked the volunteers to pick their favorite animal at the shelter, Gabi would win hands down. She does not do well with dogs or cats so must be the only animal in an adult only family. She loves people and will bond very quickly to you. Gabi would make someone a great companion. She is waiting patiently for her forever home. If you have room in your heart and your home for this sweet girl then please fill out an adoption application, highlight and right click this link: https://hsnwga.org/adoption/application-for-adoption/?fbclid=IwAR2Ie18p6U3ryKi-niIuIZFTd-waD98xrySl7IJmiRBXE239WP7dpODubiU #MakeADogsDay #SubaruLovesPets #TheUnderdogs
---
Subaru and LLS Support Cancer Patients - Sydney T
On July 22, 2019, The Leukemia & Lymphoma Society - Georgia Chapter and Troncalli Subaru of Cumming had the pleasure of delivering 80 blankets and 30 arts and crafts kits to Children's Healthcare of Atlanta at Forsyth as part of the Subaru Loves to Care program. Michael Barlow, General Manager of Troncalli Subaru of Cumming and his staff delivered these comforting gifts along with personalized messages of hope written by the customers and staff of Troncalli Subaru of Cumming.This incredible act of generosity was warmly received by Children's Healthcare of Atlanta at Forsyth staff who were thrilled to distribute these comforting gifts to their patients. LLS is proud to partner with Subaru to spread hope, love and warmth to those fighting cancer, across the country and right here in the Cumming, Georgia community. Many thanks to everyone at Troncalli Subaru of Cumming and Children's Healthcare of Atlanta at Forsyth, not only for a memorable day, but for supporting LLS's mission to cure blood cancers and improve the quality of life of patients and their families.
---
Subaru and the Outdoors: A Great Partnership - Tom L
Troncalli Subaru has been a major sponsor of the Dahlonega Trail Fest for four years. The Trail Fest celebrates the Appalachian Trail's end/beginning in the north Georgia mountains and the great boating, mountain biking, camping, and horseback riding opportunities in the Chattahoochee National Forest. Troncalli provides monetary support and also a great exhibit of the best AWD vehicles for getting to these fun spots. The Subaru corner of the booth area is one of the most popular spots on the Dahlonega Square. Trail Fest is greatly appreciative of the support received from Subaru to get out the word for the excellent forest resources in the north Georgia mountains, only an hour away from Atlanta. Trail Fest is held in Dahlonega on the weekend after Labor Day each year.
---
2019 Hornaday Award Weekend - Chris J
My name is Chris Johnson and I'm writing to you on behalf of Scouts BSA, Atlanta Area Council's 2019 Hornaday Award Conservation Weekend. This is the second year we're offering this event. Part of what made it such a success last year was the midway area we set up with numerous conservation and sustainability organizations sharing their message and opportunities to make an impact. We would like to invite someone from Subaru of America's Sustainability team to join us this year. The William T. Hornaday Award is even more rare than the prestigious Eagle Scout rank. Since its inception over 80 years ago, only slightly more than 1000 individuals have received the Hornaday award. The purpose is to educate scouts on environmental conservation and sustainability and to promote their benefits to the community and beyond. Last year we had approximately 100 scouts attend. This year we anticipate nearly 300 will be there. We draw from all over the country with scouts coming from Georgia and as far away as Florida, Missouri, Colorado, and Texas! The response has been fantastic. This year the event will be held at BSA Camp Woodruff near Blairsville, GA, November 8 -10. The Exhibitor Midway will be on Saturday, November 9th from 11 am to 2 pm (time subject to change). The exhibit area will be on a paved surface making set up and exhibiting easy. Last year we had groups such as the Georgia DNR, The UGA Extension Service, Georgia Trout Unlimited, The Georgia Conservancy, Tellus Museum, Cycle Works Sanitation, The US Army Corps of Engineers, Save Georgia's Hemlocks and The US Forest Service. All of the organizations brought information and exhibits offering opportunities for scouts to develop some aspect of conservation and sustainability. This is a great opportunity for your organization to reach an enthusiastic audience eager to learn more about protecting our beautiful outdoors. I'm sure the Subaru of America Sustainability team keeps a busy schedule. Hopefully, by reaching out to you this far in advance you'll have an opportunity to fit this awesome event on your calendar. Yours in Scouting, Chris Johnson 2019 Hornaday Midway Coordinator2019Hornaday@gmail.com
---
Michael Barlow - Peggie M
My husband and I started a charity 6 years ago, The Forsyth BYOT Benefit. We host several fundraisers in order to raise money for our school district's BYOT (Bring Your Own Technology). We have about 7000 students in our school district that live at or below the poverty level. Many of them live in pockets of 'Generational Poverty', although some are new immigrants as well. If these students don't have access to technology at home, they will never break this chain, because they won't find success in school. If you and I are the only ones in our class without access to a device and an internet connection, we will soon just give up because we know we will never catch up with everyone else. I was told that Michael Barlow was a man who generously gives to his community, so I met with him. He DOES give, to many of our organizations that need donations in order to make this county a better place! This year he gave our benefit, The Forsyth BYOT Benefit, a very generous check and we are so grateful to him!! He was a sponsor for our golf tournament in the Spring and the 5K/Fun Run in the Fall. We are so grateful for Michael Barlow's big heart and for the support of Troncalli Subaru!! This year, we were able to donate $75,188.06 to the Forsyth County Schools to put internet and devices in the homes of students who need them. This gift will help close the Digital Divide and make school an even playing field for our students! And we LOVE that!!
---
A Warm Welcome to Furkids - Laura P
Furkids recently purchased a 9-acre property near the Troncalli Subaru dealership in Cumming. This property will eventually allow us to shelter our animals in a more natural environment, host the community for events and educational programs, offer low-cost vetting to the public, and more. We recently hosted an open house for the local community and invited the team from Troncalli out to visit. Not only did they come by to welcome us and share ideas about future partnerships, but they also brought several boxes full of donations for our animals! Thank you, Subaru! We are so excited to be a part of the Troncalli family and the Cumming community.
---
Saving Fur Lives! - Amy C
I will start my story by saying how much I love and respect the wonderful people of Troncalli Subaru in Cumming, Georgia. My passion in life is saving animals. I am on the Board of Directors of the Humane Society of Forsyth County. My key role is fundraising! As such, I go around to local businesses asking for donations, sponsorship's, and whatever else we need. Troncalli Subaru has never let me/us down. Over the years, they have played a key role in helping us save fur lives. They take an interest in all that we do. In addition to sponsoring our events and donating items to our silent auctions, they have collected items for our shelter and personally delivered them. Our world is a better place because of people like them. They do not just talk the talk. They actually, walk the walk! Thank you Troncalli Subaru! You are true rescue heroes!
---
Career Mentor - Angela G
Troncalli went way beyond my expectations when I contacted them about having a mechanic some speak to a student who was interested in the career. Within a few days of my request, the service manager, Michael Stewart, came to Little Mill to spend an hour with the student. They discussed necessary education, training, continuing education, and the different types of technicians that work on cars. Their dedication to our school and youth is amazing!
---
Little Mill Loves Books & Troncalli Subaru - Valerie F
Wow, we were so excited and honored to have been chosen for this amazing book donation. We had no idea what to expect but the selection of books we received well exceeded our wildest dreams. There are so many fantastic topics & styles of books and the kids are loving them. It has been such a wonderful addition for our Media Center. We are so grateful for the gift.
---
Subaru Delivers Warmth and Hope to Cancer Patients - Audrey S
A giant surprise was in store on the day of the Subaru Loves to Care blanket delivery at Children's Healthcare of Atlanta (CHOA) Forsyth in Cumming, Georgia. Troncalli Subaru was thrilled for the opportunity to once again partner with The Leukemia & Lymphoma Society (LLS) to help bring hope and warmth to cancer patients. Michael Barlow with Troncalli Subaru worked with Laurie Cole of CHOA Forsyth to surprise everyone and have Coy Bowles of the Zac Brown Band attend the Subaru Loves to Care blanket delivery. Michael Barlow and several members of his team set up a tent to beat the heat and had all of the blankets set up upon arrival. Coy Bowles donated copies of his book Amy Giggles, which is about building self confidence in kids, to the hospital in addition to the blankets. Coy Bowles delivered the books himself as well as signed an acoustic guitar which he presented to Ethan, age 12, a very special lymphoma patient. Coy Bowles even took the time to show Ethan how to play a few basic songs. It was truly a heartfelt event where Subaru went above and beyond to make this blood cancer patient feel special. The day was full of smiles and memories that will last a lifetime.Thank you to Subaru and The Leukemia & Lymphoma Society for the 3rd consecutive year to help patients in need through the Loves to Care program.
---
Troncalli Subaru Loves the Super Sweetie 5K - Devin F
Everyone here at Fast Race Services is incredibly grateful for the support we have received from Troncalli Subaru over the years! Troncalli Subaru has been a huge sponsor for a number of our 5K's and 10K's, including the 2018 Valentine's Day Super Sweetie 5K. They helped provide the opportunity for couples to enter the race together at a discounted price, encouraging both a love for each other and a love for running. Providing runners with everything they need to have an optimal racing experience is always a tricky task, but with the sponsorship of Troncalli Subaru, Fast Race Services was able to have great success at the Super Sweetie Race. Thank you Troncalli Subaru for all that you do!
---
Troncalli Subaru is Building Beautiful Families! - Kenda H
A Beacon of Hope Women's Center is a grateful recipient of annual support from Troncalli Subaru. Their generosity is helping women who face unplanned pregnancy with medical care and practical support. Thanks to donors like Subaru, we are able to provide free pregnancy tests, free ultrasounds and give our patients quality time with licensed medical professionals. Their gifts also help new mothers transition from crisis to stability in our Bridge Long Term Care program. By attending parenting classes, our Beacon moms earn "baby bucks" and shop in our Baby & Me Boutique for everything their baby needs until age two. We are the only medically-accredited, nonprofit pregnancy organization in metro Atlanta. Because we do not receive any federal or insurance funding, partnerships from companies like Subaru are very important. Many thanks to everyone at Troncalli Subaru for investing in local children and families by partnering with A Beacon of Hope! www.abeaconofhope.com
---
flood's Glow with the Flow 5k Road Race - Kimberly S
flood has loved partnering with Troncalli Subaru over the last few years as they serve as a sponsor for flood's annual Glow with the Flow 5k road race. Their partnership has allowed flood students to serve in the community and make a difference to many lives! This event is one of flood's major fundraisers and without businesses like Troncalli, it wouldn't be successful. All of the students at flood are super thankful for Troncalli!
---
Subaru Loves Learning...and Giving To Little Mill - Amy Y
Little Mill Middle School is the grateful recipient of a wonderful selection of science-themed books for use in our classrooms. Our teachers are excited about sharing these wonderful resources with their students! The books feature current innovations in topics such as ecology, climate change, biology and farming. These new books are sure to foster an interest in various topics and will encourage our students to learn more about so many important fields of science and how a knowledge of science shapes our future. Many of these new resources will benefit the school's new Agricultural Science classes and our outdoor classroom which features a garden. We at Little Mill Middle are so thankful to Troncalli Subaru for its generous donation and continued support of our students and our community!
---
Subaru Love to Care for Blood Cancer Patients - Chantal R
The Leukemia & Lymphoma Society – Atlanta Chapter and the Troncalli Subaru team joined forces on Tuesday, July 11 to deliver blankets to the Children's Healthcare of Atlanta in Forsyth. We delivered multiple boxes of care-kits and blankets to the front of the hospital and were able to take them inside through the facility. There was so much love and support from the multiple members of the Troncalli Subaru team who were able to join and assist in delivering blankets and care-kits (Michael Barlow, Charlie Sawes, Brooke Nebel, Daniel Mygrant, Eric Nielsen, Jennifer Cope, and Rachel Troncalli), the LLS team, and hospital staff Laurie Cole. We are so grateful for the opportunity that Subaru has given us!
---
Subaru and NWF Love the Earth! - Polly T
We have two outdoor classrooms where students come to explore the plants and animals we attract with habitats, food, and water. We use the space to release the ladybugs, butterflies, and praying mantis' knowing that they will help our garden spaces. We are so grateful for the support of Subaru in helping us provide this environment which aids the education of our students.
---
Jesse's House, Inc. - Amber B
Troncalli Subaru has been a wonderful partner to our mission. Not only through their generosity during the Share The Love event, but throughout the year with volunteers and sponsorship. Our mission to provide shelter and care for at-risk girls due to abuse and neglect in their family home is dependent upon support from the community. This year, Troncalli Subaru blew us away with a $20,000 check! With this money, our mission will flourish! Girls who are unable to remain in their home because it is not safe with them will be able to begin the healing process at Jesse's House with nurturing staff and resources. They will be able to remain involved in extra-curricular activities, go out to restaurants and the movies on the weekend, get much needed supplies like clothing and school items,and so much more! Thank you, Troncalli! You are changing lives by supporting our mission!
---