The 2021 Subaru Love Promise Customer and Community Commitment Award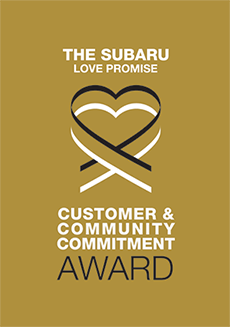 We've been nationally recognized for our dedication to our customers, our community, and the Subaru Love Promise.
We're honored to receive the 2021 Subaru Love Promise Customer and Community Commitment Award. This award nationally recognizes elite Subaru retailers who provide an exceptional customer experience at every interaction with Subaru. These retailers have also demonstrated an outstanding commitment to supporting passions and causes in their local communities in important areas such as the environment, community, health, education, and pets.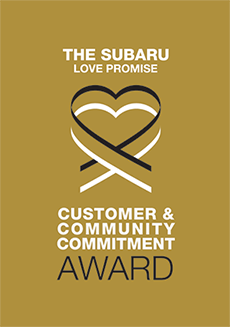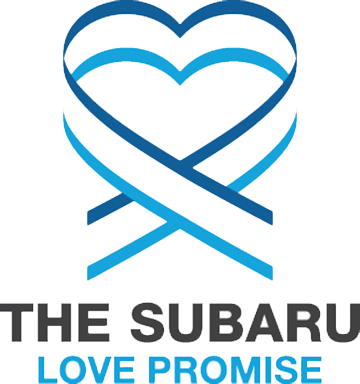 What is the Subaru Love Promise?
Subaru and our retailers believe in making the world a better place and the Subaru Love Promise is our vision of respecting all people. This is our commitment to show love and respect to our customers and to work to make a positive impact in the world.
How is Troncalli Subaru dedicated locally to the Love Promise?
Our Love Promise can be seen in our on-going partnerships with local charities and non-profits. We're grateful for the opportunity, not only to be a part of our community, but to serve it as well.
Humane Society of Forsyth County, Furkids Animal Rescue & Shelters
Little Mill Middle School
Children's Healthcare of Atlanta
Love Promise Stories from Troncalli Subaru
Subaru and Troncalli Subaru believe in making a positive impact on the communities in which we live and work. We uphold that belief through our Love Promise Community Commitment. Every month, we select inspiring stories from customers and partners from around our area who strive to support our collective commitment and feature them here
Troncalli Shares The Love with Jesse's House - Elizabeth J
We at Jesse's House are extremely grateful for the support we have received from Troncalli Subaru through the years. To date we have received more than $145,000 in donations through Troncalli's Share the Love events. For a small nonprofit with big goals, Troncalli's generous support has been the difference in what we can accomplish. Since 1998 Jesse's House has served over 1,050 adolescent girls who were removed from conditions of abuse in order to secure their safety and well-being. Our mission is to provide a safe haven where they find healing, support and empowerment to guide them through the challenges of their present life and their years beyond Jesse's House. We have 1,050 stories to share, but we are choosing one to demonstrate the impact of Troncalli's support through the years. Daniela's early years were filled with trauma. She suffered from significant physical abuse inflicted by her father, was homeless more often than she had stable housing, and when she was 8 years old, the voices in her father's head told him to kill Daniela's mother, so she watched in horror as her father drown her mother in the bathtub. Without a mother or father, she and her siblings were taken into the state's custody until a relative was identified to care for them, but her trauma didn't end there. Two of her uncles lived in a trailer on her aunt's property, both began sexually abusing her soon after she settled into her new home. Instead of telling anyone about the abuse she decided to run away from home. By the time she came to Jesse's House, she was 15 years old, hospitalized more than 25 times due to self-harm and suicide attempts, and had just spent the last 9 months in a long-term psychiatric facility. Daniela's progress and success could be measured in many ways during the 10 months she was in our care, but the most tangible measurements would be demonstrated in the following ways: 1) For the first time in 3 years she was stable enough to attend public school and be successful behaviorally and academically. In fact, she passed ALL of her classes and was promoted to the next grade! Previously her mental illness precluded her from attending public schools and she was two years behind her peers. 2) She was able to refrain from any self-harm and stay out of the hospital almost the entire 10 months of her placement at Jesse's House. That's significant progress! Because of Troncalli Subaru's support, Daniela was able to prove to herself and everyone else that she could make it outside the walls of a hospital. At Jesse's House she had her chance to prove she could stay out of the hospital, attend public school, pass all of her classes and be promoted to the next grade. Thanks to supporters like Toncalli Subaru that gave Daniela a fighting chance, she was able to prove to herself and others that she had a bright future ahead.
---
Running for U.S Army Rangers with Troncalli!!! - Mea I
Run for Rangers is a charity 5k, 10k, and half marathon. OnPoint 1-1 a non-profit 501 c3 host this annual event taking place in Dahlonega, Ga. Our country was struggling to regain our strength after the pandemic shut everything down. The amazing support of Troncalli Subaru in a time of need Run for Rangers event was made possible. Participants run to support our US Army Rangers and their families. This charity supports Ranger Warrior Foundation, which helps soldiers who are transitioning into a civilian life.
---
THANK YOU Subaru for helping families in need!!! - Ben B
Since the start of the pandemic, the Atlanta Community Food Bank has seen a 300% increase in families seeking food assistance. Currently, we are distributing 50% more food per week than we were at this time in 2020 and are serving over 1 million food insecure Georgians due to the COVID-19 crisis. 1 in 4 children currently go to bed at night hungry. In 2020, Subaru provided enough support help us provide almost 200,000 meals to our 29 county service area. With their help, and yours, we are going to make sure every family that needs a meal will have it and we will get through this thing together! Thank you Subaru!!
---
The HSFC Loves Barlow Bear & His Troncalli Family! - Amy C
The Humane Society of Forsyth County is honored to have Troncalli Subaru as one of our top Corporate Sponsors! Throughout the year, they support us in many ways. In addition to financial support, General Manager Michael Barlow, a/k/a Barlow Bear, and his amazing team, donate their time, energy, and spirit. They not only sponsor events, but they attend them and really add a specialness to the ambience that only they can do! During the month of October, they sponsored the HSFC for the Subaru Loves Pets Adoption Event! We are proud to say that through this event, we were able to adopt out 54 animals into loving and forever homes. Although there are more facts that can be listed, we would rather share with everyone the spirit that is Troncalli Subaru. To start this particular campaign off, Troncalli Subaru sponsored an event for us at the Reid Barn. On this night, we adopted out "stuffies" to those who wanted a fully trained and housebroken pet! After the event, we moved the "stuffy" adoptions to the Troncalli Subaru Showroom for the entire month of October. We also held a raffle! This turned out to be not only financially successful, but a good time was had by all! Just about every member of Barlow Bear's team adopted a stuffy! It was truly heartwarming to see everyone's involvement! Midmonth, we held a real, non-stuffy adoption event at Troncalli Subaru! The dogs that attended had an absolutely wonderful time as they were lavished with love, attention, and treats by the entire Troncalli Subaru family. The above event is just one example of what Troncalli Subaru does for the Humane Society of Forsyth County. They have been sponsoring us for many years, and with their help and dedication, we have grown. In case you are wondering where the name Barlow Bear originated, it is because of Michaels big heart! He goes out of his way to make sure that all of our events, and other events that Troncalli Subaru sponsors within the community, are successful. He does more than just write the check! He puts his heart and soul into everything he does....and that is reflected by his staff, because they do the same. Working an event with Troncalli Subaru is always a great experience. To sum it up in a nutshell, working with Michael and his team brings out the warm and fuzzies, hence the name Barlow Bear! The Humane Society of Forsyth County loves Troncalli Subaru, and of course, the Subaru Loves Program. It has had such a positive impact on all that we do. Thank you for allowing us to be a part of all that is Subaru! Mostly, thank you for helping us save fur lives. To the entire Troncalli Family from all of us at the HSFC, thank you for everything you do for our community. Barlow Bear....you know we love you!
---
Furkids LOVES Troncalli Subaru! - Furkids F
Thank you Troncalli Subaru for hosting Furkids' low-cost vaccination and microchipped clinic on Saturday, October 10th. Nearly 100 of our special furkids were vaccinated and microchipped ensuring their overall health and safety. The complimentary engraved pet I.D. tags were a huge win for all too! We love having community partners who truly value and understand our life saving work!
---
Going Gold for Emma - Jennifer C
Three years prior to her cancer diagnosis, Emma finally became a big sister. She wanted to get her brother something special for the baby shower, so she made him a book of all the things she wanted to do with him. The very last page read, "My wish for you is...to cherish life." Families like Emma's are faced with unimaginable challenges in every conceivable aspect of life, and all at the same time. Over the past 10 years, CURE Childhood Cancer has funded over $27,400,000 in research, provided $1,677,296 in financial assistance and served over 113,876 meals in the hospital. Supporting families devastated by a childhood cancer diagnosis is central to their mission. From meals and counseling to financial assistance, CURE is committed to walking alongside families throughout their cancer journey. Through financial support for CURE, we can all work to find an end to childhood cancer. We are proud to hang a shining beacon of GOLD in memory of Emma (2004-2017), and for all those we hope will be spared by the development of a cure.
---
Shine Pedalers Metric - Jennifer C
This year has been an uphill battle for hosting events and fundraisers in general, but the participants in the Shine Pedalers Metric were eager to literally take on the uphill challenges of their beloved annual bicycle event. The Shine Pedalers Ride offers rolling routes through the beautiful hills of Dawson County where cyclists clocked up to 68.1 miles and a peak elevation of over 5,700 feet. With kind words from the event coordinator: Dear Michael, Thank you so much for all your support with our 8th Annual Shine Pedalers Metric! All the participants have had nothing but positive feedback and have been very appreciative this event happened. We really appreciate Troncalli Subaru helping make this event a reality this year! Thank you! -Dustin
---
Forsyth County Strong - Jennifer C
Our community heroes protect our health, safety and well-being every single day. While we appreciate everything they do for us, we rarely get the opportunity to demonstrate it by protecting their health, safety and well-being in return. During the onset of the COVID-19 pandemic, our community heroes were identified as "essential workers," and faced their daily demands with a shortage of personal protective equipment to keep them safe. When the opportunity presented itself to purchase N-95 face masks for our local sheriff's department, we didn't hesitate. The phrase "we're all in this together" became the rally song to combat COVID-19, but in the bigger picture, it has always been the anthem of a strong community. Thank you to all of our community heroes for keeping Forsyth County strong.
---
Bald Ridge Lodge - Outing & Activity Sponsor - Wendy H
Thank you to Troncalli for being an outing and activity sponsor for Bald Ridge Lodge!! Bald Ridge Lodge provides a safe haven to boys ages 12-21 who have been victims of abuse and neglect. We provide a therapeutic and nurturing environment, the tools to help them heal from past trauma, and give them the life skills they need to become successful men. Our goal is to break the cycle of abuse, keep our boys in school and help them secure a better future. Bald Ridge Lodge is dedicated to helping boys overcome: low self-esteem, manipulative and inappropriate behaviors, unhealthy relationships, feelings of worthlessness, and a risk of recidivism. We remind them that their past does not define their future. We help families by providing tools and resources for reunification and restoration. Your contribution is changing lives, one boy at a time, and we are extremely grateful for your support. Because of the financial support of organizations such as Troncalli Subaru, we can change a boy's life direction. We can restore hope and empower our boys to seek bright futures!!
---
Subaru Shares the Love with Jesse's House! - Karen C
Since 2013, Troncalli Subaru has donated over $111,000 to Jesse's House to support our mission of providing a safe haven to female youth ages 7-21 who have been victims of abuse and neglect. We are able to provide a nurturing environment, the tools to help them heal from past trauma, and give them the life skills they need to become successful adults. Below is just one of a thousand stories we have witnessed over the past 22 years in Forsyth County: Cortney* grew up in a loving home. Her parents were divorced and her mother struggled to make ends meet, but she was loved and taken care of. When Cortney was 9, her mother began dating a man who seemed very nice and who provided financially for the family. At age 10, the unimaginable happened and this same man began sexually abusing Cortney. Cortney was too frightened to tell anyone and this abuse went on for years. At age 14, Cortney finally told a teacher at school what had been happening. Her mother chose to believe her now husband and refused to have him leave the home. Cortney came to Jesse's House suffering from depression and issues with self-harm. We provided on site counseling in addition to specialized counseling for survivors of sexual abuse. She stayed in our care for over a year and we watched her transform from a broken child into a more confident young lady with a future planned out for herself. She was able to be placed with a distant paternal aunt and is doing well. Because of the financial support of organizations such as Subaru we are able to take in children like Cortney and change their life's path. We remind them that their past does not define their future. We restore hope and empower or youth to seek bright futures. We are able to break the cycle of abuse, keep our kids in school and help them move on to secondary education. Your contribution is changing lives, one youth at a time, and we are extremely humbled by your support.
---