The 2022 Subaru Love Promise Customer and Community Commitment Award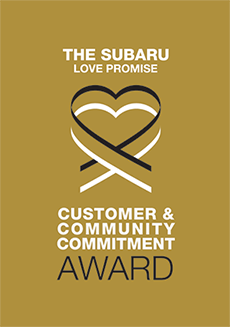 We've been nationally recognized for our dedication to our customers, our community, and the Subaru Love Promise.
We're honored to receive the 2022 Subaru Love Promise Customer and Community Commitment Award. This award nationally recognizes elite Subaru retailers who provide an exceptional customer experience at every interaction with Subaru. These retailers have also demonstrated an outstanding commitment to supporting passions and causes in their local communities in important areas such as the environment, community, health, education, and pets.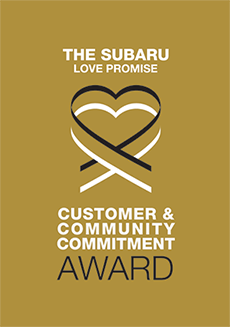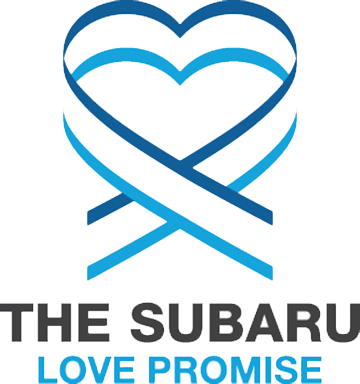 What is the Subaru Love Promise?
Subaru and our retailers believe in making the world a better place and the Subaru Love Promise is our vision of respecting all people. This is our commitment to show love and respect to our customers and to work to make a positive impact in the world.
How is Troncalli Subaru dedicated locally to the Love Promise?
Our Love Promise can be seen in our on-going partnerships with local charities and non-profits. We're grateful for the opportunity, not only to be a part of our community, but to serve it as well.
Humane Society of Forsyth County, Furkids Animal Rescue & Shelters
Little Mill Middle School
Children's Healthcare of Atlanta
Love Promise Stories from Troncalli Subaru
Subaru and Troncalli Subaru believe in making a positive impact on the communities in which we live and work. We uphold that belief through our Love Promise Community Commitment. Every month, we select inspiring stories from customers and partners from around our area who strive to support our collective commitment and feature them here
"We Love Troncalli Subaru" - Natalie C
It is hard to imagine life without Troncalli Subaru in it. Our day-to-day lives revolve around the safety, comfort, and reliability of our Outback. It takes us to work, our children to school, and on our off time, it takes all of us, and our most spoiled child Hunter, to our happy places! Hunter is pretty convinced that we purchased this Outback just for him. He thinks that the back cargo space is his personal hotel suite on wheels! When we pack up for a fun time away from the stresses of life, he is the first one to jump in the car. He has his large fluffy car bed, a box of toys, and some treats, all set up and waiting for him. Luggage in the back? Oh no, that is what the roof is for. Hunter likes to sprawl out and travel in pure luxury. What Hunter wants, Hunter gets! This brings us to why we only do business with Troncalli Subaru in Cumming Georgia. Hunter loves going there! Frankly, so do we. They are like family to us. We have gotten quite used to having a stress-free car buying experience. It is so nice to walk into a dealership and trust everyone you are working with. We never have to second guess ourselves. The Sales Staff is incredible, as is the Finance Department. Also, we would not bring our vehicles anywhere else to be serviced. The Service Department at Troncalli Subaru is second to none! So thank you to everyone one at Troncalli Subaru. Our family loves you, especially Hunter. Sincerely, Hunter C. and Family
---
Thank You Amy, Dustin, Fernando, & Luther! - Vanessa R
Your kindness makes such a difference in my life. When the offer came that you would personally deliver my beautiful 2022 Subaru Forester Sport to me, I swear my blood sugar bottomed. Thank you for all you have done. You guys are great! Vanessa R.
---
Thank You Greg P.! - Carol and Sandy S
Hi Greg: Thank you very much for helping to make our new car buying experience such a pleasant one. We wish you many future successes. We look forward to happy travels in our beautiful new vehicle. P.S. Happy Birthday! Carol & Sandy S.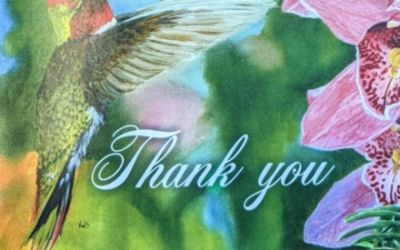 ---
Thank you Mark L. - RoyAnne D
Thanks for the red carpet treatment! Thank you so very much for all of your help! I'm so very excited to be a part of the Subaru Family!!! RoyAnne D.
---
Thank You From Jesse's House! - Elizabeth J
2021 will be remembered for many reasons, but for most of us, the pandemic played a role that was difficult to escape. For Jesse's House, the world's focus on healthcare and the impact of the pandemic on mental health, only intensified and highlighted the importance of what we do. Thanks to your generous support, we were able to remain steadfast in our mission to provide a safe haven from abuse for adolescent girls in our community and neighboring communities. For many years, the support we have received from Troncalli Subaru has been the difference between being able to continue our work or close our doors. This year, we have an added reason to be grateful to Troncalli Subaru. Thanks to you we have THE nicest vehicle Jesse's House has ever had and the only vehicle that has come with a 100,000 mile wrap-around warranty! The employees love it, and the girls love it, too. Not that it's a big surprise, but the girls race to ride in it instead of the old one. They also prefer being picked up in the carpool lane in our new vehicle. Instead of being embarrassed, they feel proud getting into the new one. Considering where our girls come from and the amount of embarrassment they have felt due to their life circumstances, that means so much to them. To say we are grateful for the difference our new vehicle has made for Jesse's House, would be the understatement of the year. As you might imagine, working at Jesse's House has its dark days and at times it can be overwhelming. However, with every donation and word of support from the community, we are lifted out of that darkness and know we are not alone in our work. Instead, we face the challenges of our work knowing we have a community of supporters behind us. The ripple effects of our work extend well beyond the walls of Jesse's House and their time with us here. This means there is no real way to measure all the good that will come from your support of our work, and for that, we at Jesse's House are grateful beyond measure. Sincerely, Elizabeth Johnson, B.A., M.S. Executive Director Jesse's House Inc.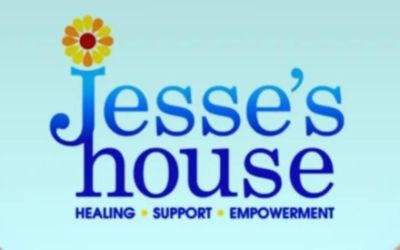 ---
Troncalli Subaru Gives! - Rebecca C
I will start by saying that I have never owned a Subaru. However, that is about to change. Last week, on a whim, I stopped by Troncalli Subaru. The reason why I went there is because I was curious. I am what is commonly referred to as "A Social Butterfly." I go to most, if not all of the events in Forsyth County that have to do with fundraising for a cause. I can say that at almost every single one of them, a major sponsor is Troncalli Subaru! They honestly give so much to our community! I have witnessed them support children's education, puppies and kittens, and battered women! I also know that they care about our environment. At one of these events, I had the pleasure of meeting the General Manager, Mr. Michael Barlow, and the General Sales Manager, Mr. Alex Avrutsky. So you see, they not only support these events, but they attend them, too. I find this to be very impressive. So, like I said, on a whim, I dropped in! Everyone at this dealership is enthusiastic and frankly, proud to work there. I told them I was not there to make a purchase, yet they treated me as if I was their favorite longtime customer. Well, I think that will happen. I am starting to research the different Subaru vehicles and as soon as I decide which one is best for me, I will be going back to Troncalli Subaru. Our community is better off because of these wonderful people. I will support them because of all the good they do for so many causes. Sincerely, Rebecca C.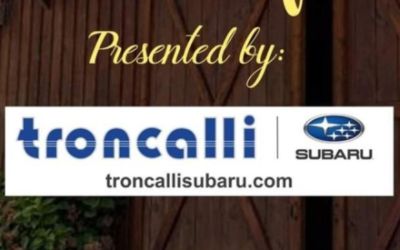 ---
Letter's From Kids! (#2) - Tiffany S
A message from Tiffany S! I want to thank everyone at Troncalli Subaru! My parents bought a Crosstrek for my sister Theresa. The next car to be purchased will be for me. I am still a few years away from getting my driver's license, but I already know that I want a bright red Crosstrek. My sister went with a gray one. She likes to blend in. I like to standout. The most exciting part of buying the car was that we got to meet Blanton the dog! He is a famous! Here is a picture that they gave me of him. I can't wait to have my very own Subaru! In the meantime, my sister will have to drive me around. Thank you, Tiffany S.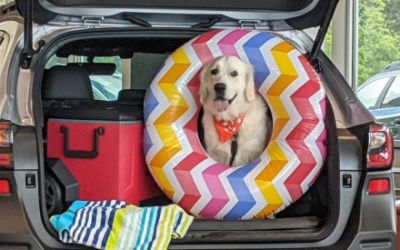 ---
Stories From Subaru Kids! (#1) - Emerson W
Hi Mr. Barlow Bear. My mom is helping me write this. She said that is what your friends call you. I am your friend. I am seven. I had fun playing in your building. People were nice and gave me snacks. I played with the toys and got a stuffed car to bring home to my new puppy. His name is Baxter. I love the car you sold to mom. It is very pretty and Baxter loves it. Thank you Mr. Bear. Bye, Emerson W. Here is a picture of Baxter. He eats so much.
---
Tamara's Story! - Amy C
We all know that moving is a stressful event. Under the best of circumstances, it is still a nightmare. When you finally have it all done and arrive in your new town, you might feel as if you can take a deep breath and relax just a little bit! Well, this is not always how it goes. Here is Tamara's story. Tamara called into Troncalli Subaru absolutely desperate for a vehicle. She sounded overwhelmed and on the verge of tears. She said she did not have a great deal of money to spend and that her credit was not the best. You see, she recently moved from Florida to Georgia. She cleans houses for a living and was not making enough money where she was. When she arrived in Georgia, she could not find affordable housing. She temporarily stayed at one of those extended motels. Eventually, Tamara found a place for seniors 55 and older that she could afford. It wasn't the best place in the world, but it was something she could call home! One day, as she was running errands, trying to get ready to move into her new apartment, her car was hit from behind! Fortunately, except for some bumps and bruises, she was okay. Not great, but okay. Unfortunately, her car was totaled. Needless to say, Tamara was devastated. Now, on top of everything else, she had to rent a car. This was the worst timing ever. This is where Troncalli Subaru comes in! A few days before Tamara called us, we happened to get in a 2017 Forester on a trade. This was the best timing ever! Upon hearing her story, everyone wanted to try to make this work for her! Our General Manager Michael Barlow, and our General Sales Manager Alex Avrutsky, immediately went to work on making this happen. When they had the numbers as good as they could be, Judson Attaway, one of our Finance Managers, took over. You see, Tamara thought she had a preapproval for a loan she could handle. However, when Judson read through the paperwork, he found that what she thought she was going to be paying was not actually correct! She was told one thing, but the paperwork said something else. You see, Tamara did not have a computer, so she relied on someone's word. At this point, Judson called in some favors and was able to get her approved at a much lower rate with payments she could actually afford!! When she received the phone call that we really could make this happen for her, she began to cry. The next day, Tamara got into her rental car for the last time. She drove for two hours to get to us! We had her 2017 Forester all shined up and filled with gas! When she realized that her tank was completely full, she got teary eyed! You see, she had shared on the phone earlier that the amount of gas needed to go back and forth to Cumming was a concern for her. She seemed both shocked and overjoyed by all of this. As we sat down with her to go over the paperwork, she just smiled and signed! We arranged for the rental car people to come pick that car up so that she did not have to deal with it anymore. When everything was completed, our GM Michael had one more surprise for her! He handed her a gift bag containing $250.00 in gift cards! Some were for gas and some were for Home Depot! Well, this made her jump up and much to his surprise, give him the biggest hug ever!! She was thrilled beyond belief!! Update! Her latest text was this: "OMG!!!! I absolutely love my Subaru and I actually like driving now!" My personal update: "OMG!!!! I love working at Troncalli Subaru and I am honored to be part of this magnificent team!
---
It's The Little Things In Life That Matter! - Theresa S
I recently purchased a Crosstrek and I absolutely love it! However, I did not get mine at Troncalli Subaru, which is something that I now regret! I will not say which Subaru Dealership I went to because it was not a bad experience. It just was not the exceptional experience my friend received at Troncalli! After she drove my new car, she decided she wanted one for herself. So one day, we drove to Cumming and bought a Crosstrek for her. Wow! Her experience was so beyond what mine was. She was treated like royalty! So was I and I was not the one buying a car! They gave us something to drink, something to snack on, and about 10 bones to my dog! While we were sitting in the office doing paperwork, someone even offered to take my pup for a walk!! After the paperwork was done, we were given a tour of the facility and introduced to the people in the service department. On top of that, they gave her a gift! She received an organizer for her new car! Yep, now I was jealous! All I was handed was a bill and a business card! After we went back to the first building, she was asked to go into the finance office. Then, once again, she was back in the salesperson's office to finish up a few more things. This part is where we both got teary eyed! She was asked who she would like to dedicate her tree to! It seems as if Subaru and Nitrofill partner with the National Forest Foundation and for every Subaru sold, a tree is planted to help with reforestation! (I googled all of this later and I am impressed.) We recently lost a dear friend to Covid so, of course, she dedicated the tree in memory of her. It really is the little things in life that matter. This small gesture meant so much to the both of us. Why wasn't I asked about dedicating a tree? My Crosstrek has Nitrofill! My guess is that someone did not want to take the time to bother. Shame on them. I would have loved to dedicate a tree to our sweet friend, too! In the future, when it is time for me to buy my next vehicle, and yes, I see a Forester in my future, I will be taking my business to Troncalli Subaru! They seem to realize that all of the little things in life matter and that matters to me! Thank you, Theresa S.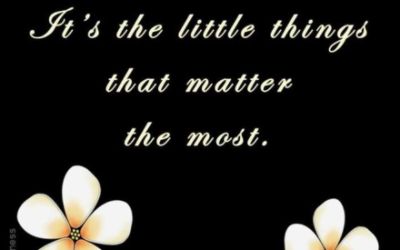 ---