Road and Track January 2012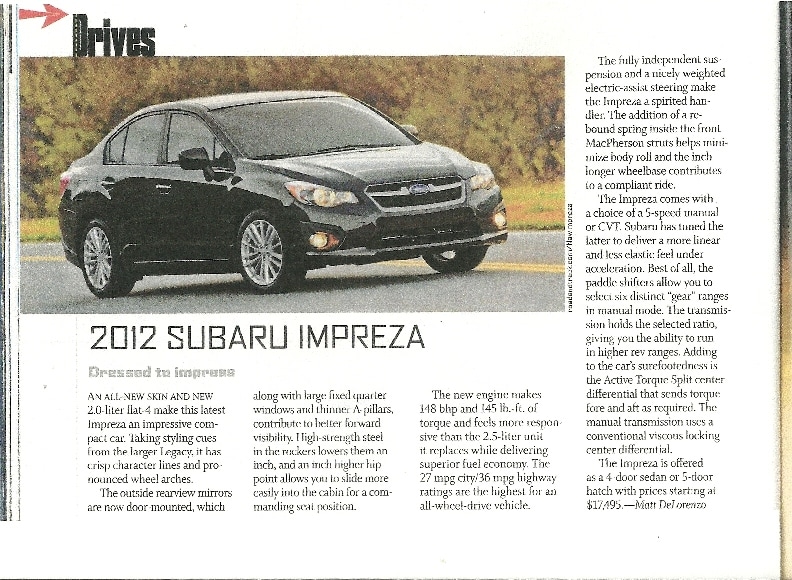 2011 Impreza
Starting at $17,495*
Symmetrical All-Wheel Drive
Choice of 4 - and 5-door body styles
---
Starting at $25,495*
Symmetrical All-Wheel Drive
265-hp turbocharged SUBARU BOXER® engine
---
Starting at $19,995*
Symmetrical All-Wheel Drive
Vehicle Dynamics Control
---
Starting at $23,195*
Symmetrical All-Wheel Drive
Available 4- and 6-cylinder SUBARU BOXER® engines
---
Starting at $20,295*
Symmetrical All-Wheel Drive
Large rear hatch and cargo area
---
Starting at $30,495*
Symmetrical All-Wheel Drive
Seating for seven
Motor Trend's 2010 Sport/Utility of the Year
®
We are pleased to announce that the 2010 Outback is Motor Trend's 2010 Sport Utility of the Year®.
Having spent time with the car, Motor Trend Editor-in-chief Angus MacKenzie said, "It boasts car-like refinement, drivability and gas mileage on the road, yet is as capable in the rough stuff as all but the most off-road focused sport utilities. Thoughtfully engineered, cleverly detailed and competitively priced, the Subaru Outback is a terrific all-rounder with broad appeal."
Even more flattering is the fact that this is the second year in a row Subaru took home the award, making us the first car company to ever do so. In the words of Thomas J. Doll, Executive Vice President and Chief Operating Officer, Subaru of America Inc. "To win the 2009 award for the Forester was wonderful enough, but to have won for the 2010 Outback this year is truly an outstanding achievement."
It seems the good people at Motor Trend saw in the new Outback what so many had seen before. Unmatched versatility. Enviable gas mileage. The capability of Symmetrical All-Wheel Drive. A legendary safety record. In short, they saw the Outback for what it is, the Outback.